BH Rotary Club feeds students, families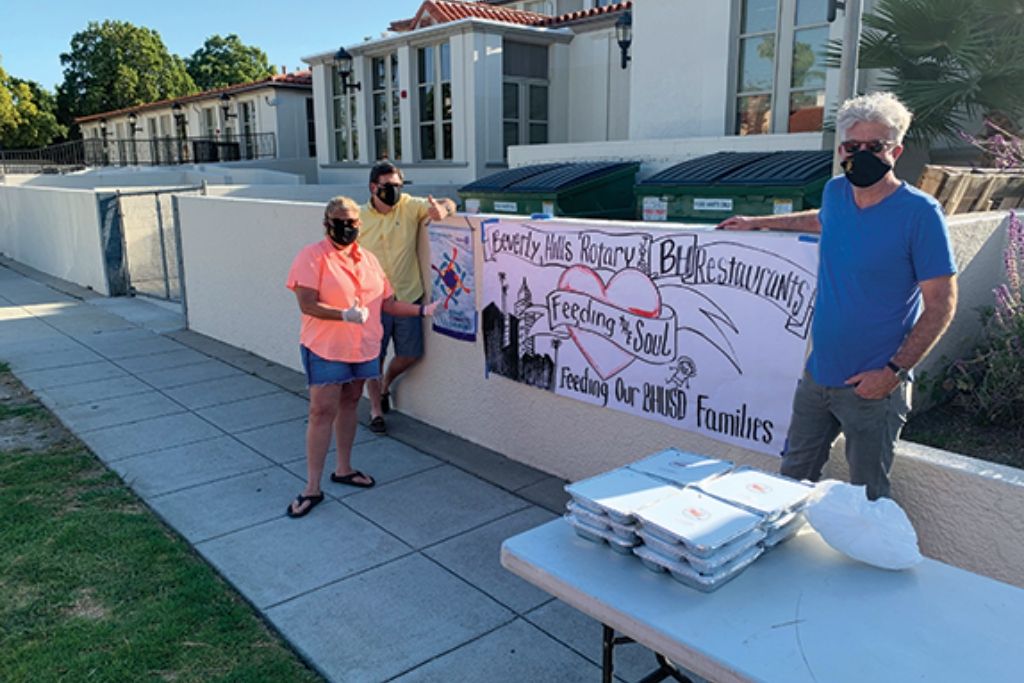 When the coronavirus pandemic began in March, many organizations had to change their most basic functions.
In the case of the Rotary Club of Beverly Hills, its regular meetings – which feature speakers like Wimbledon champion Pam Shriver and the chairman of City National Bank, Russell Goldsmith – shifted from the Beverly Hills Hotel to Zoom, and in-person conversations became an internal phone tree.
With its motto being "Service Above Self," the Rotary Club members knew they also had to find a way to give back to those in need, said Michael Lushing, president of the Rotary Club of Beverly Hills.
"When the coronavirus reared its ugly head, we, as a club, immediately [thought] 'what can we do to help our community,'" Lushing said.
The Rotary Club of Beverly Hills helped fundraise for the Meal to Heal program, which purchased food from local restaurants to feed health care workers, with the Rotary Club covering the credit card fees for the donations.
When Lushing spoke to another Rotary Club member, Beverly Hills Unified School District Superintendent Michael Bregy, he realized that there was more the Rotary Club could do.
Bregy told Lushing about the hundreds of BHUSD students who live below the poverty line. Because these children rely on meals at school, the district was serving them cold lunches.
"That's nice to have a cold lunch, but what about dinner? What about a warm dinner? We decided to step up our efforts," Lushing said.
Taking the Meal to Heal model – which was adapted by Beverly Hills resident Laura Margo from a television news report about a similar effort started by a New Jersey pizzeria – Lushing and fellow Rotarians JR Dzubak and Frances Bilak started Feeding the Soul, which uses donations to purchase meals from local restaurants. Those meals are then given to the families of BHUSD students in need.
"It's targeted at our youth," Lushing said. "Kids, at a minimum, should have a healthy meal or two a day. Knowing that the families [are] struggling, Feeding the Soul [is] thinking about kids, giving them nourishment to help them grow, help them in school and help them in life."
Margo said she is "so honored and so touched" that programs similar to hers are helping even more people in the Beverly Hills area.
"I love seeing people put forth an effort to help others," she said. "We're really fortunate to be able to live where we do, and the fact that many of us are willing to help those less fortunate or help those who really need help right now, it's what we should be doing."
Feeding the Soul launched late last month, and twice a week, approximately 60 meals are distributed to BHUSD families at Horace Mann School, which Bregy said has been the district's site for pickups of all kinds, whether it's food or laptops and iPads for students, since the shutdown began. Bregy said only he knows the names of the meal recipients, and he personally contacts them to see if they need food.
"Every community has families that are struggling. The kids in their classrooms and their friends may not even realize it. That's the beauty behind these programs. We are absolutely confidential in being able to provide the support, because it's really important for us not to single anybody out that would bring any unnecessary attention to them," he said.
Bregy added that because Feeding the Soul benefits students, their families and local businesses, he was thrilled to be part of the program. Helping others is why he joined the Rotary Club more than 10 years ago, and while helping people in other communities is a worthy cause, "many times it's overlooked that we have students and families in Beverly Hills that need some additional help," he said.
"It's really important to look for ways that can benefit these types of projects that can benefit the community and families. A lot of times, that's overlooked. A lot of times, people are looking for fundraisers and projects outside the community when the need is right in front of you," Bregy said.
The Rotary Club is using its network of members to provide funding. Rotarian and Beverly Hills resident Robbie Anderson donated funds to help purchase the meals out of a love for the city and a desire to help.
"The reason I contribute to Rotary is because I trust their judgement in distributing funds to needy local charitable organizations, and I will continue to do so," he said.
The Rotary Club also provided connections to local restaurateurs who wanted to help. Xi'an, a Chinese restaurant at 362 N. Canon Drive that will prepare the Feeding the Soul meals for tonight, June 11, is owned by Vicky Mense, a Rotarian. Mense said her restaurant was able to stay open through delivery orders, "so whenever we got a chance, we wanted to participate in giving back."
"We don't look at this as a business transaction. We really look at this as being a Rotary member, it's in a spirit of serving the community," she said.
Mense added that the restaurant is "very fortunate that we're able to work in a community in Beverly Hills." After the COVID-19 crisis passes, the community will have to come together to help with the recovery.
"Everyone is doing their best in their own position. If we can give each other the understanding and the support, it will help the city and all the businesses to recover and hopefully, that will set the right momentum so our city could thrive just like before. It will take time, but we have to be patient with each other," she said.
Feeding the Soul is funded through donations to the Rotary Club of Beverly Hills Community Foundation. For information, visit bhrotary.org, email info@bhrotary.com or call Lushing at (310)505-0565.