Varun Soni
Re-Humanizing: Finding Hope Amidst the Chaos
',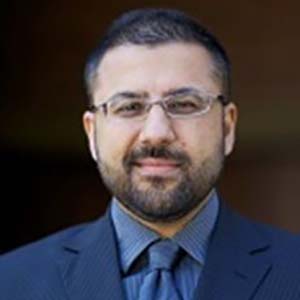 Varun Soni is the dean of religious life and spiritual life at the University of Southern California, where he also serves as vice provost of campus wellness and crisis intervention, and where he teaches courses in the School of Religion and the Chan Division of Occupational Science and Occupational Therapy. In his different roles, he oversees campus wellbeing, threat assessment, support and advocacy, ombuds services, and spiritual life for the university. Before arriving at the University of Southern of California, he spent four years teaching in the Law and Society Program at the University of California, Santa Barbara.
A prolific public speaker and scholar of religions, his work is featured in a number of media outlets, including CNN, Los Angeles Times, Associated Press, National Public Radio, PBS NewsHour, Washington Post, and Harvard Divinity Bulletin. He has served as a consultant for Showtime, Facebook Watch, ESPN, CW Television Network, Biography Channel, Live Nation, Oprah Winfrey Network, and the video game company Naughty Dog, and he is currently senior adviser for Religion of Sports, a media platform and production company founded by Gotham Chopra, Tom Brady, and Michael Strahan.
Soni is the author of Natural Mystics: The Prophetic Lives of Bob Marley and Nusrat Fateh Ali Khan and he contributed to the edited volumes My Neighbor's Faith: Stories of Interreligious Encounter, Growth, and Transformation; Words to Live by: Sacred Sources for Interreligious Engagement; and Next-Generation Ethics: Engineering a Better Society. He also produced the graphic novel Tina's Mouth: An Existential Comic Diary, which is currently being developed for television. In 2019, Soni received the Peter J. Gomes Memorial Honors award from Harvard Divinity School in recognition of his national leadership in spiritual innovation.
Soni serves on the Board of Directors for the Boys & Girls Club of Metro Los Angeles and on the Board of Trustees for the Carlthorp School, and he is a member of the State Bar of California, the American Academy of Religion, and the Association for Chaplaincy and Spiritual Life in Higher Education. He holds degrees in religion from Tufts University, Harvard University, the University of California, Santa Barbara, and the University of Cape Town, as well as a law degree from the University of California, Los Angeles.