David Seidel
Touchdown on Mars: Searching for Ancient Life and Paving the Way for Human Exploration
',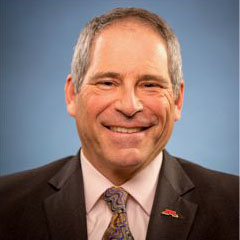 The Perseverance rover and Ingenuity helicopter are set to land on the surface of Mars on February 18. David Seidel, manager of the Education Office at NASA's Jet Propulsion Laboratory, will describe the landing events, show the very latest images from Mars, and describe the importance of this mission for two great quests of humanity, the search for life beyond Earth and human exploration of other worlds.
David Seidel is STEM Engagement Director and manager of the Education Office at NASA's Jet Propulsion Laboratory where he leads a team creating transformational experiences for students and educators by leveraging the intrinsic interest in NASA missions of discovery.
He has been at JPL for thirty one years and, prior to joining JPL, David taught science and ran the planetarium at Beverly Hills High School, from where he graduated in 1977. He earned a BA in Geography from Cal State, Northridge and a Masters of Science degree in science education from USC.
David has received numerous group and individual achievement awards including the NASA Exceptional Service Medal, NASA Exceptional Public Service Medal, and theAmerican Astronautical Society's Sally Ride Excellence in Education Award. He has served as JPL's lead NASA TV commentator for missions and has also flown on NASA's "Weightless Wonder" aircraft, otherwise known as the Vomit Comet.
Beyond JPL, he was a member of the California Science Expert Panel for the Next Generation Science Standards and on the California State STEM Task Force convened by the State Superintendent. David is a member of the Technical Advisory Panel for the California Science Center's Oschin Air and Space Center and served in a similar role for the Griffith Observatory's renovation and expansion.
He is a City of Beverly Hills Traffic and Parking Commissioner and previously served as a Health and Safety Commissioner. His hobbies include mountain biking and skiing. He is on JPL's Disaster Assistance Response Team and Emergency Amateur Radio Service, a BHPD disaster communications volunteer and a BHFD Community Emergency Response Team instructor.