Stephen D. Smith, PhD & Ita Gordon
Patterns of History: How modern day genocides relate to the Holocaust
',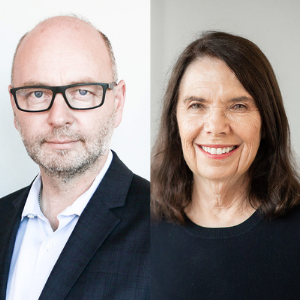 Dr. Stephen D. Smith, Finci-Viterbi Endowed Executive Director of the USC Shoah Foundation, is committed to making the testimony of survivors of the Holocaust and of other crimes against humanity a compelling voice for education and action.
An adjunct Professor of Religion at the University of Southern California, he is a theologian by training.
Smith founded the UK Holocaust Centre in England and cofounded the Aegis Trust for the prevention of crimes against humanity and genocide. He was also the inaugural Chairman of the Holocaust Memorial Day Trust, which runs the National Holocaust Memorial Day in the United Kingdom. Smith was the project director responsible for the creation of the Kigali Genocide Memorial Centre in Rwanda and trustee of the South Africa Holocaust and Genocide Foundation.
Smith has produced several documentary films. These include The Last Goodbye, an award-winning, virtual-reality film that transports viewers inside the Nazi death camp Majdanek, and The Girl and The Picture, an award-winning documentary that centers on a survivor of the 1937 Nanjing Massacre in China.
Smith, who holds the UNESCO Chair on Genocide Education, lectures widely on issues relating to his expertise. His publications include Never Again! Yet Again!: A Personal Struggle with the Holocaust and Genocide. In recognition of his work, Smith has become a member of the Order of the British Empire and received the Interfaith Gold Medallion. He also holds two honorary doctorates, Honorary Doctor of Letters from Nottingham Trent University and Honorary Doctor of Laws from University of Leicester.
Ita is a cataloguer and indexer of Holocaust survivors testimonies. She also worked as a translator. She is fluent in Portuguese and Spanish, as well as conversant in Yiddish. Ita Gordon trained interviewers in Rio de Janeiro and São Paulo, Brazil; she trains and mentors prospective cataloguers and indexers. Representing the Institute, Ita reached out to community leaders in South America, especially in Brazil, during the early phase of collecting survivor testimony.