Dr Joanna Chikwe
How 2020 Changed Everything
',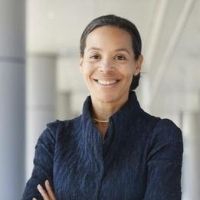 Contact Information:
Joanna Chikwe, M.D., F.R.C.S
The Irina and George Schaeffer Distinguished Chair in Cardiac Surgery
Chairman, Department of Cardiac Surgery
Smidt Heart Institute
Cedars-Sinai
Los Angeles, CA
PH: 310-423-1874
FAX: 310-423-3522
EMAIL: Joanna.Chikwe@cshs.org
Biography: Joanna Chikwe, MD, FRCS
Jo Chikwe MD, FRCS read medicine at Oxford University after spending two years in Florence, Italy studying Renaissance art. She is the Irina and George Schaeffer Distinguished Chair in Cardiac Surgery, Chairman of the Department of Cardiac Surgery in the Smidt Heart Institute at Cedars-Sinai Medical Center, and Clinical Professor of Surgery at the David Geffen School of Medicine, UCLA. Her areas of clinical expertise are mitral and tricuspid valve repair, minimally invasive and robotic cardiac surgery, and multi-arterial myocardial revascularization.
Dr. Chikwe's research focuses on long-term comparative outcomes, epidemiology and practice variation in cardiac surgery and cardiology, with landmark publications in journals including JAMA, NEJM, JTCVS and JACC. She is currently Deputy Editor of Annals of Thoracic Surgery; serves on five editorial boards including the European Heart Journal of the American College of Cardiology and the Journal of Thoracic and Cardiovascular Surgery. She is a member of regional, national and international committees with responsibility for oversight of clinical outcomes research and healthcare delivery in cardiac surgery and cardiology.
Dr. Chikwe's long-standing interest in surgical education and mentorship includes the design and accreditation of one of the first 6-year integrated thoracic surgery residency programs in the US, which she led as Program Director; and the AATS Cardiothoracic Careers College which she developed to provide mentorship and professional support for residents, new faculty and under-represented minorities within the specialty. Author of three textbooks published by Oxford University Press, Dr. Chikwe was the 2017 Alpha Omega Alpha Visiting Professor, Icahn School of Medicine at Mount Sinai, and the 2018 Nina S. Braunwald Visiting Professor, Harvard Medical School.