Professor Jonathan Gorshoni & Dr. Natalia Freund
Coronavirus Vaccines: How Close Are We?
',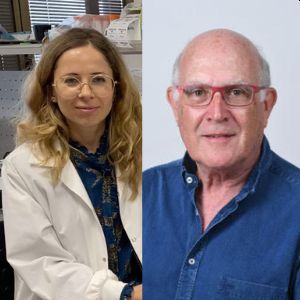 Professor Jonathan Gershoni was recently awarded a US patent for his innovative vaccine design for the corona family of viruses.  For 30 years, he has investigated the immune response toward viruses such as HIV, HCV and SARS CoV. He has repeatedly been awarded "Teacher of the Year" at Tel Aviv University, has served as the Director of the Israeli AIDS Task Force and has operated as a visiting scientist at the National Institutes of Health in Bethesda MD and at Boston University's Department of Physics.
Dr. Natalia Freund – Department of Clinical Microbiology and Immunology, Sackler Faculty of Medicine.
Dr. Freund's research focuses on isolating neutralizing antibodies directly from Israeli survivors of the COVID-19 outbreak. Her premise is that the antibodies developed by these survivors – which are what enabled them to overcome the virus – could be used as front-line therapeutics for treatment of COVID-19 infected individuals as well as for developing a vaccine.
Dr. Freund and her team have been studying the antibody mechanisms for neutralizing the SARS coronavirus which is a closely related variant to the Coronavirus COVID-19. Now they aim to combine this extensive knowledge with a novel methodology for antibody isolation, called single B-cell sorting. This method enables the extraction of antibodies directly from infected human donors, as opposed to other methods that are based on engineered antibodies or on modified animal antibodies. Clinical trials have already shown that antibodies isolated by this method are both safe and effective in eliminating the corresponding pathogen